Päivän mietelause
"Aurinko on kaikille. Ranta vain sen ansaitseville."
(City of Godista)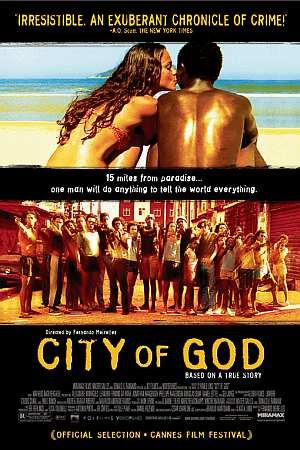 Elokuva on rankka
City of God (Cidade de Deus, 2002
). Jumalten kaupunkiin Rio de Janeiroon sijoittuva kehityskertomus(?) 1960-luvulta 1980-luvulle, päähahmonaan aikuistuva
Rocket
. Näyttelijöinä toimivat mahdollisimman suuren autenttisuuden takaamiseksi ns. aidot harrastelijanäyttelijät. Huumekaupat ja raaka väkivalta kuuluvat jokapäiväiseen arkeen. Jengejä. Initaatioriittejä. Raukoista raukimmat, nuo lapsentappajat; ja heitä he osin ovat. Poliisit lahjotaan. Romantiikka on toisaalla, vaikka leffasta toki näitä kaikuja voi syystäkin tavoittaa. Itse olen jostain kumman syystä haaveillut lapsena Rion getoista - aina vain pelaten futista - ja vuodesta 1976 ja tietenkin Copacabanasta. Mutta romantiikkaa ei huumekaupassa ja raa´assa väkivallassa ole. 
Mutta haluan yhä nähdä sen Copacabanan.